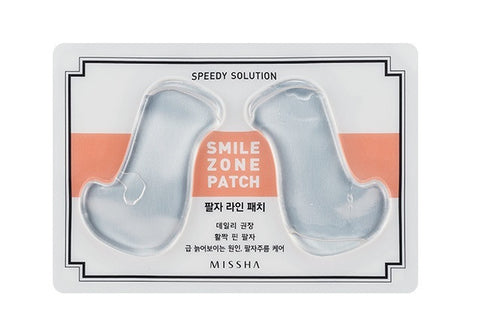 Speedy Solution Smile Zone Patch
Smile Line Patch helps smooth and firm up by providing elasticity to smile lines that make the face look old due to wrinkles.

 

- Fills and reduces smile lines

- quickly reduce smile lines with intensive wrinkle care

- highly enriched anti aging - ingredients

- without irritations

 

 

 

(1) Smile Line Wrinkle Care for Deep Smile Lines

It helps Provide elasticity to smile lines that causes the face to look old and

makes the skin firm and elastic.

 

(2) Care for dry, dull skin around the mouth

The ingredient of alpha-lipoic acid helps provide sufficient energy to keep the dry, dull skin around the mouth feeling healthy and moisturized.

 

(3) Excellent adherence to skin

The hydrogel gel type patch with excellent adherence allows you to move freely as it closely adheres to the skin around the mouth and does not run down.

 

 

Alpha-Lipoic Acid provides energy

Glutathione promotes skin glow

Collagen provides elasticity

 

1. After washing the face, remove the tray film and attach the patch on your smile lines.

2. Leave it on for 20-30 minutes for skin to fully absorb the essence in the patch.

3. Remove the patch, and gently pat the skin to promote penetration of the remaining essence.

 

 
---
We Also Recommend
---