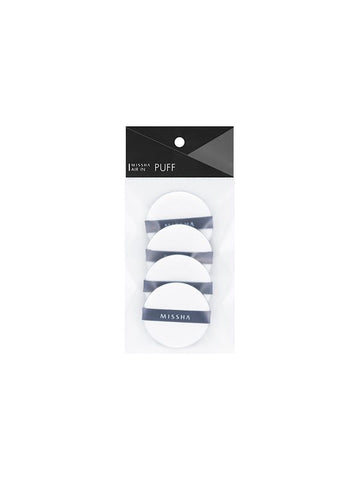 Missha Air in Puff (4)
Dhs.33.00 AED

Dhs.33.00

Save 45%
---
---
Recommended for: - Those who want a replacement puff - Those who want a dewy finish with their base makeup - Those who use the Air In Puff frequently
Air In Puff 4P
Air In Puff provides an even and moist application to
improve the adherence of your makeup
Size: 55 x 55 x 7mm
Material: Wet Process Polyurethane
Quantity: 4P
3-layer structure

Middle layer absorbs the product and dispenses it through the bottom layer, evenly distributing the product to skin.
Increased adherence


Polyutherane material with fine holes applies makeup evenly, and improves its adherence with more patting.
Economical 4P!


30% cheaper when purchasing the set
A Perfect Pair for Cushion Products!
Air In Puffs are perfect to match with cushion products full of moisture!

HOW TO USE:
Grab the product with the puff and gently pat and sweep outward from the center of the face.

*Misting the puff before usage can provide a more dewy finish.
---
We Also Recommend
---