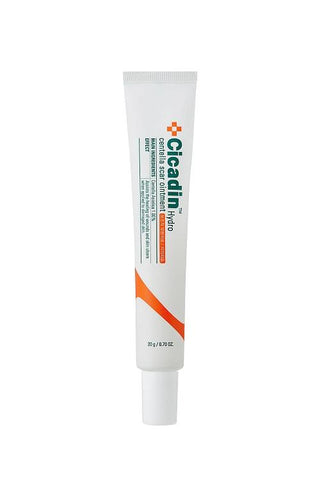 Missha Cicadin Hydro Centella Scar Ointment (20g)
Dhs.115.00 AED

Dhs.115.00
---
---
Centella scar ointment contains the essentials of centella in a form of powder. It's highly nourishing and concentrated, using it as its active ingredient.
Recommended for:
Those who have acne or trouble-prone skin.

Those who need treatment on scars or ulcer.

Those who need quick and soft cica care.
Description:
Safe Medical Treatment For Skin
Centella Scar Ointment (Eucalyptus) is a form of aid that gets absorbed with a refreshing and moisturizing finish that it can be applied on scars or ulcer.
Extracted The Essential of Centella's Core Ingredients
Centella Asiatica is known as mild plant of Madagascar. It was used as cure for sensitive skin by the natives from a long time ago.
Texture:
Gets absorbed quickly and softly like a facial cream.
Main Ingredients
Centella Asiatica: (Asiatic Acid, Asiaticoside, Madecassic acid) helps skin soothing and protecting.
Direction
Put the patch cream all over the face and used it on where there is a skin trouble.

Apply it 1 to 2 times per day on affected areas.
Cautions:

Following users as below are not allowed to use:

For patients who have sensitive reactions on this aid or ingredients of this ointment.

For those who have secondary infections or scars.

Do not use it for ophthalmological use.

Note: Do not apply more than recommended amount.
Ingredients:
Water, Butylene Glycol, Dipropylene Glycol,Glyceryl Stearate SE, Glycerin, Cetearyl Alcohol, Cyclopentasiloxane, Cyclohexasiloxane, Asiaticoside, Madecassic Acid, Methylparaben, Asiatic Acid, Triethanolamine, Carbomer, Fragrance.
---
We Also Recommend