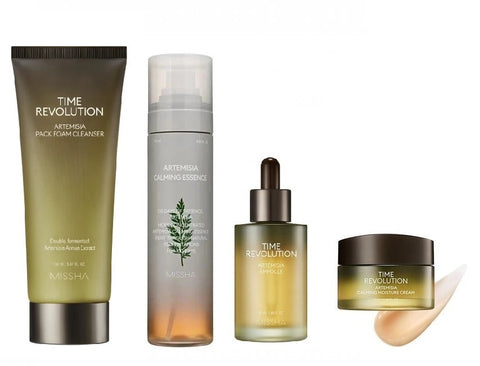 Missha Time Revolution Artemisia Series Gift Set (with Mist)
Dhs.758.00 AED

Dhs.758.00

Save 19%
---
---
A gift set containing the 4 best selling items of the Time Revolution Artemisia Range
1)Time Revolution Artemisia Pack Foam Cleanser
2) Time Revolution Artemisia Calming Essence [MIST]
3) Time Revolution Artemisia Ampoule  [50ml]
4) Time Revolution Artemisia Calming Moisture Cream [50ml]
Time Revolution Artemisia Pack Foam Cleanser
A 2-in-1 foaming cleanser and soothing clay mask to relieve the skin of redness and irritation as well as reduce the skin's production of excess sebum and oils. Made with double-fermented artemisia (mugwort) extract harvested from a mineral-rich environment. 
Recommended for: sensitive/irritated/acne skin.
Time Revolution Artemisia Calming Essence [MIST]
Benefits:

A mist type essence infused with 100% Sweet Wormwood Extract to improve skin tightness after cleansing and effectively soothes irritated and sensitive skin.


 
Moisturizes and provides comfort to parched skin.


 
The even and fine mist minimizes skin irritation.


 
Eco-friendly printing packaging with soy ink.


 
Utilizes double fermented method to retain purity of Sweet Wormwood Extract.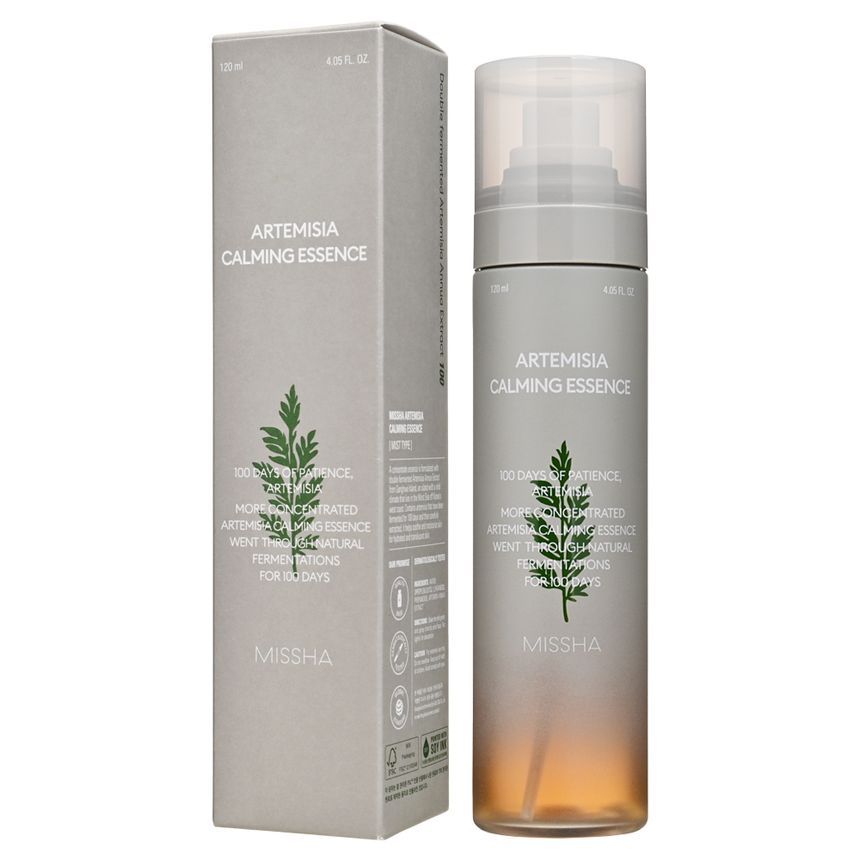 How to use:
After cleansing, spray onto the skin.
Time Revolution Artemisia Ampoule  [50ml]
Soothing Ampoule of ARTEMISIA is richer with double natural fermentations.
It helps soothe, hydrate, and make your skin translucent.
Description
1. Artemisia concentrate went through double natural fermentations.
It contains Ganghwa Islands' very own Artemisia extracts in a pot made by a pot master through the traditional method. After going through two times of natural fermentations in warm and cool temperatures, the product is finally available to all who are seeking for a soothing care.
2. Moisturizing & soothing care that consists of 70% of moisture components. 
A concentrated ampoule that deeply moisturizes and soothes sensitive skin along with fresh moisturizers from Artemisia extracts.
3. Controls skin moisture and oil balance with Artemisia concentrate essence+ 3-step moisture-locking formula.
It balances skin moisture and skin's oil level.
How to Use
After using treatment essence or toner, get an adequate amount and pat for full absorption.

TIP: It gets even more effective if used along with Artemisia Treatment Essence and Artemisia Calming Moisture Cream.
Time Revolution Artemisia Calming Moisture Cream [50ml]
Artemisia Calming Cream provides a soothing effect with naturally twice-fermented Artemisia Extract and forms a hydrating moisture protective film over the skin.
Description:
The Missha Time Revolution Artemisia Calming Moisture Cream is soothing, moisturizing, and formulated wth natural fermented ingredients that provide intensive hydration and nutrition to the skin. The highly concentrated cream formula deeply moisturizes and prevents moisture loss during the day, improves elasticity, reduces wrinkles, evens out tone, and protects the skin from environmental influences. The highly concentrated soothing cream is based on an artemisia annua double fermentation extract from the Kangwa Island with a mild climate in the western sea off the west coast of Korea. This helps to strengthen the skin's water barrier, which helps to relieve fatigue and dryness to make your complexion more comfortable. The wormwood extract kills pathogens, promotes speedy healing of cracks and wounds, and relieves swelling. It has a biostimulating effect, improves microcirculation in the capillaries, refreshes makeup, relieves tension and stress, stimulates, cleanses, and brightens the skin.
How to Use:
Dispense a moderate amount of the cream with a clean spatula.
Apply over the entire face and gently massage for better absorption.
---
نوصي به أيضا