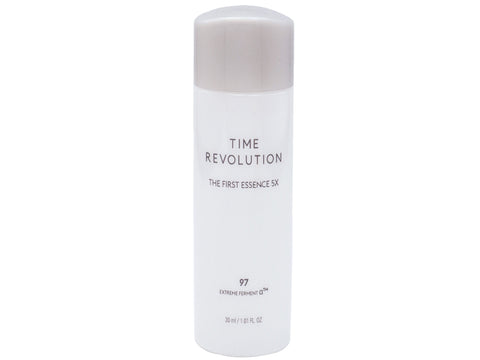 Missha Time Revolution The First Essence 5X (30ml)
Dhs.38.00 AED

Dhs.38.00

Save 24%
---
---
Description:
A K-beauty and Missha #1 best-seller, the Time Revolution The First Essence 5X is the brand's fifth-generation leading essence. Formulated with 97% Desert Cica Yeast Ferment, this firming and brightening essence helps maintain the skin's pH balance, delivers dense moisture, and offers basic strength care. The pure and potent skin-nourishing ingredients provide eight key skincare benefits: clarity, moisture, skin tone, texture, soothing, smoothness, hyperpigmentation, and protection. Ingredients are fermented with Missha's EXTREME FERMENT α™ Method, a unique three-step fermentation method that stably delivers an extreme boost of active ingredients to the skin.
Time Revolution The First Essence 5X is clinically proven to improve tone, texture, and moisture within 14 days of use. It is recommended for those with dull, dry, or aging skin, and can be used on normal/sensitive skin types.
Size: 30 ml / 1.01 fl. oz.
Hidden deep within the harshest environments
Extreme Desert Cica Yeast Ferment 97%

Carefully sourced cica proven miraculously demonstrates longevity surviving in the most extreme environments. Fermented cica ingredients replenish the skin's moisture barrier while maintaining optimal hydration and balance.
1) In arid and dry conditions, improves:

Skin tone / Clarity / Moisture / Texture


2) For harsh temperature volatility, provides:

Nutrient-rich soothing elasticity / Fortifying dermal barrier


3) Reduces skin damage (UVA/UVB):

Hyperpigmentation improvement
Special Fermentation Processed 3 Times



"Missha's Patent Absorption Science"
EXTREME FERMENT α™ Method
It is a Missha's unique technology that stably delivers active ingredients to the skin with excellent skin affinity by combining Missha's unique extreme fermentation method with a special delivery technology that enhances tighter absorption.
1) Proprietary procedure to activate special yeast to produce "extreme" ingredients
2) High-tech activation within optimal 30 degrees temp to activate fermentation
3) Distilled fermentation utilizing cold, low-temp vacuum extraction
4) Compression filtration triple-refined for quality purity




Special DELIVERY TECHNOLOGY



MISSHA's unqiue absorption technology boosts skin quality and absorption
Forms of phospholipids which are similar to the skin structure
KEY INGREDIENTS:
Fermented Cicaenzyme (Yeast) Extract: a mixture of flavonoids, sugars, vitamins, and amino acids that contain a high concentration of antioxidants to thoroughly balance and moisturize dehydrated skin, tone uneven or dull skin, soften fine lines and reduce the visible signs of aging
Niacinamide: known for its brightening and smoothing properties, helps skin look and feel healthier, restores skin's natural support system, and stimulates collagen production for smoother, firmer skin
Ceramide NP and Glycerin: two ingredients that work together to hydrate skin and support its crucial protective moisture barrier.
HOW TO USE:
After washing your face, pour a generous amount onto a cotton pad and wipe gently across. Then use your hands to gently absorb the remaining product into your skin.
Tip: Depending on skin condition, apply multiple layers.
INGREDIENTS:
Water, Glycerin, Propanediol, 1,2-Hexanediol, Niacinamide, Yeast Ferment Extract, Diethoxyethyl Succinate, Bifida Ferment Lysate, Sodium PCA, Butylene Glycol, Ethylhexylglycerin, Adenosine, Xanthan Gum, Ceramide NP, Hydrogenated Lecithin.
---
We Also Recommend